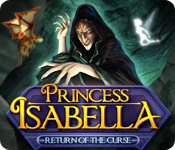 Fantastic gameplay
Gorgeous graphics
Save your kingdom!
For a more in-depth experience, check out the Collector's Edition!
Revisit the excitement of Princess Isabella: A Witch's Curse!
Release Date: 2011-06-12

System requirements:
OS: 10.5
Memory: 512 MB
DirectX:
Harddisk Space: 572 MB
Other: The game is checked and 100% virus and spyware free.